Ashati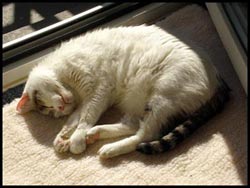 * 1997 – + 07.12.2009
I will never know what happened to you in your life before. I got you from the shelter in 2000. They said you were about 4 years old, but they could only guess, as you were found somewhere.
You have been the sweetest cat I've ever known, it was an honour to share my life with you. You loved to sleep in my bed, on my lap, in my arms. You loved the sunshine, valerian and playing.
You were too curious, which ended in that terrible accident when you fell out of the window and broke both your wrists and your jaw in 2002. I will never forget the moment when I picked you up from the hospital after 2 weeks of surgeries, and that little sad furball just staring on the ground suddenly started meowing and climbing out of your box when you saw me. It was been a very special love between us.
Every single vet was so impressed how brave you were during the many visits. You knew you almost couldn't do anything that made me angry for more than a few minutes. You loved me, and I could feel it every day. Thank you, my baby!
Everything has been fine, until that sudden unexpected stroke in October 2009... You were strong enough to recover from that almost death for 6 more weeks, which was a gift. I did anything that could possibly help you, but 5 more seizures in the night from 6.-7. December showed us that there was no chance any more. On December 7th 2009, I let you go to sleep in my arms at the vet, staying with you to the end. Your spirit will always be with me, I feel it.
- I will always love you, we will meet again my little angel