Graphic tablets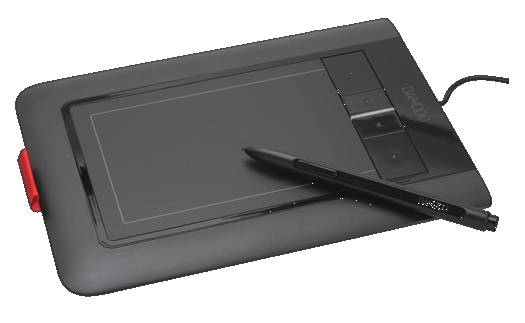 The most important equipment for digital drawing is a graphic tablet. With their stylus-based interface and ability to detect pressure, tilt or rotation (depending on the model), graphic tablets offer a very natural and comfortable way to create digital art, as well as for image or photo editing.
The pressure sensitive stylus pen gives you a lot more possibilities for creating art, making use of the different brushes, brush sizes and individual settings. Manufacturers like Wacom also offer different stylus pens (grip pen, art pen, airbrush pen). For the pens there are different interchangable tips available (for a different experience).
---
What's the right tablet for you?
No question, a graphic tablet is a must. So which one is the right for you?
There are different type of tablets:
Regular graphic tablets without screen
You're drawing on the tablet surface while looking at your monitor. These kind of tablets are the common ones and available in various sizes and prices (also already quite affordable). Examples are the Wacom Bamboo or Intuos.
Graphic tablets with screen
You're drawing directly on the screen, which is a more natural drawing feeling. An extra computer or laptop is still needed though. Examples are the Wacom Cintiq series.
Mobile computer graphic tablets with screen
These tablets come with a built-in computer and are a completely mobile device. Examples are the Wacom Mobile Studio Pro, or the previous version, the Wacom Companion.
If you are a beginner or don't want to spend too much money on a graphic tablet, it's probably a good idea to start with a regular one. Of course there are various brands out there, I personally always worked with Wacom tablets, that's why I will mainly talk about these models here. There are smaller already quite affordable tablets (Bamboo). You don't require a big tablet to create good art, but at some point you may notice that it's more comfortable / natural / easier to work with a bigger one (or even a Cintiq).
---
Wacom Personal experiences
So far, I had 6 different Wacom tablets, and while I was very happy with each one, getting the bigger version always paid off for me and I never regretted it (also the Wacom tablets are great quality, so I was always able to sell my previous tablets again). Btw. all tablets have (custom configurable) hotkeys on the tablet front, which are very useful.
Wacom Intuos 3 (DIN A5)
Wacom Cintiq 12WX
Wacom Cintiq 21HD
Wacom Cintiq 24HDT – since 2014
(still using now)
Wacom Companion 13″
Wacom Mobile Studio Pro – since 2018
(still using now)
I quickly found out that the Cintiq series (with the integrated screen) worked the best for me. As much as I liked the Cintiq 12WX, it was too small for my needs (as I am often working with big images and needed to scroll a lot), so I decided to save up for a bigger one, the Cintiq 21HD.
After some years, I decided to upgrade to the Wacom Cintiq 24HDT because of the Touch screen function and the better screen quality / color range. It's still my current tablet (photo on the right) and I love it beyond words. Drawing on it is incredibly much fun and gives me a lot of motivation. Although I have to admit I always have the (finger) Touch option turned off, as I accidentally activate it with the palm of my hand and it also acts buggy when this option is turned on.
I would love to test their large 27″ Cintiq, but my desk is simply too small for that.
---
Wacom – going mobile
It's nice to be able to draw when you're not at your desk, or maybe not even at home. So I got myself the first version of the Wacom Companion 13″ in 2014, Wacom's first tablet with an integrated computer.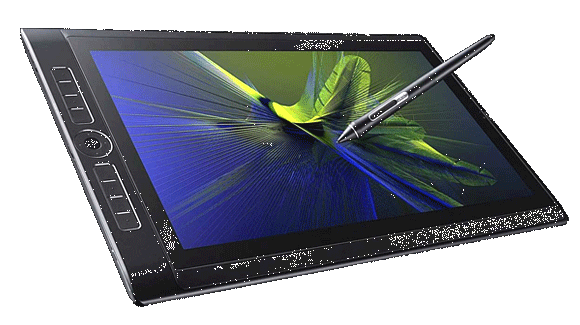 Photoshop was running fine on it. The hot keys (on the side of the tablet) and adjustable on-screen menu (digital buttons) are very useful and it was nice and easy to work with it. However it never replaced my large Cintiq on my desk, and also the weight and battery time didn't make me carry it around much, but mostly use it on the sofa.
Same again here, the size of the 13″ display was just a little bit too small for me. So I decided to give the Wacom Mobile Studio Pro 16″ a try (the small i5 version). Though I wouldn't say there are worlds between those two (as the Companion was already great), I found the Mobile Studio Pro (MSP) extremley comfortable to use, the 16″ display was exactly the size I was looking for. It's easy to hold (even though it's also not really a light weight), the hot keys are great to use, and the drawing experience is very satisfying.
Is this tablet really mobile? I think it's a great mobile device if you wanna take it to different work places (with power outlet), your sofa or conventions. You can easily take it with you (although the Mobile Studio Pro does not come with a cover/sleeve or standee, you need to buy that extra), but the device is still a little bit heavy (compared to the iPad), and the battery does not last for many hours depending on the program (maybe 2-4 hours). If you enjoy working with your familiar programs (on Windows) and don't mind that the batterly life doesn't last all day, you will be very happy with the Wacom. If you really just want a light tablet to quickly grab and sketch also for a longer time (like going outdoors, in the car, at the zoo, etc.), I would recommend an iPad Pro.
---
iPad Pro with Pencil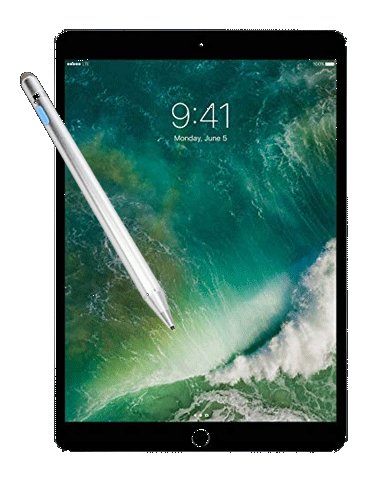 When I had the chance to try the new iPad Pro with the Pencil, I immediately fell in love with it. The Pencil costs extra (about a hundred Euro), but it's worth it. The feeling to sketch / draw on the iPad is fun and gives quite a nice illusion of drawing with real media. The screen is really good (retina), the battery time lasts for several hours (longer than the Wacom mobile tablets). The iPad is a lot lighter too, so having the iPad Pro on your lap to draw really feels like having a drawing pad on your lap, that you can easily turn or rotate. The Pencil is connected to the iPad via Blutooth and can be charged via cable or directly on the iPad (lightning connector).
I also got one of those paper-like (matte) screen protectors to put on the glass. It does not only protect your screen, but also gives a much nicer feeling (like paper) when drawing with the pencil, as the surface is not so smooth and covered with finger prints.
There are various drawing apps. You can look up some programs and apps here.
The iPad Pro does not replace my Wacom. The amazing features of Photoshop and the Cintiq are irreplacable in my view. However, the iPad is a lovely addition, especially for sketching wherever you are. It's light, easy to carry, and the long battery time doesn't require to always have a cable with you. Even if you take the biggest version, it's still half the price of the Wacom mobile tablets.