Graphic tablets
The most important equipment for digital drawing is a graphic tablet. With their stylus-based interface and ability to detect pressure, tilt or rotation (depending on the model), graphic tablets offer a very natural and comfortable way to create digital art, as well as for image or photo editing.
The pressure sensitive stylus pen gives you a lot more possibilities for creating art or editing images/photos, making use of the different brushes, brush sizes and individual settings. Manufacturers like Wacom also offer different stylus pens (grip pen, art pen, airbrush pen). For the pens there are different interchangable nibs available. The stylus pens are usually battery-free, which means there is no need to charge them.
What kind of tablet should you get?
There are different types of graphic tablets (there are more, but here are the three most popular ones):
---
1) Pen Tablets
(graphic tablets without display)
The tablet is connected to your computer or laptop. You are drawing with the stylus pen on the tablet surface while looking at your monitor. These kind of tablets are the regular ones, available in different sizes and are usually quite affordable.
There are also versions with Bluetooth available, which makes it possible to comfortably draw on the tablet without a cable.
An example is the Wacom Intuos or Intuos Pro.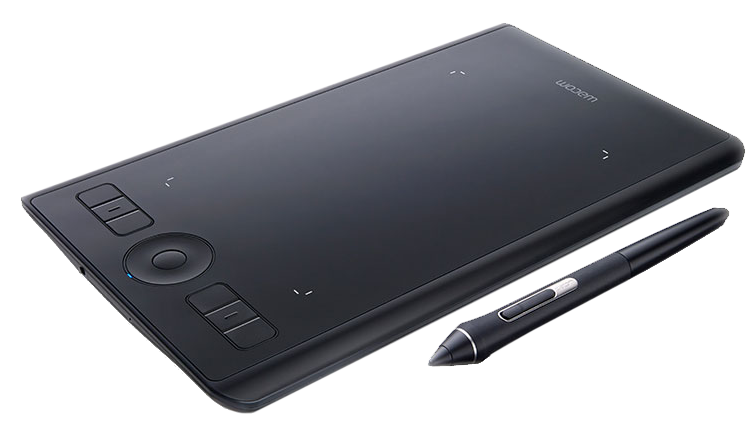 ---
2) Pen Displays
(graphic tablets with screen)
You are drawing with the stylus pen directly on the display, which gives you a more natural feeling when drawing. There are models with different resolutions available, for example 1920 x 1080 or 4K. While 4K gives you a sharper, cleaner experience, the price is also higher of course. The smaller pen displays don't neccessarily need a stand, however it's more comfortable to use one. The larger displays require a stand (there are usually also different versions available).
You need a computer or laptop to connect your pen display to. You can use the pen display as a single display or as an individual screen in a multi-monitor setup (as second monitor).
An example is the Wacom Cintiq series or XP-PEN Artist series.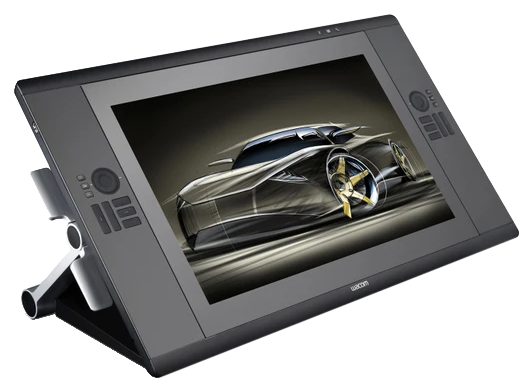 ---
3) Pen Computers
(laptop and pen display in one device)
These pen displays come with a built-in computer and are a fully mobile device. The biggest advantage: you only have to take one device with you (and the power supply) if you want to go out drawing. On the other hand, the device is of course heavier than a regular pen display, it's usually getting warmer and has additional fans (noise).
Examples are the Wacom Mobile Studio Pro, or their previous version, the Wacom Companion.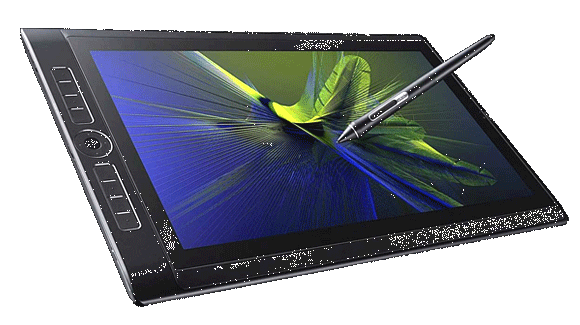 ---
If you can afford it, I would always recommend a Pen Display, where you can directly draw on the screen. There are many different versions available, so you can choose one according to your needs, requirements and your budget.

Wacom – My experiences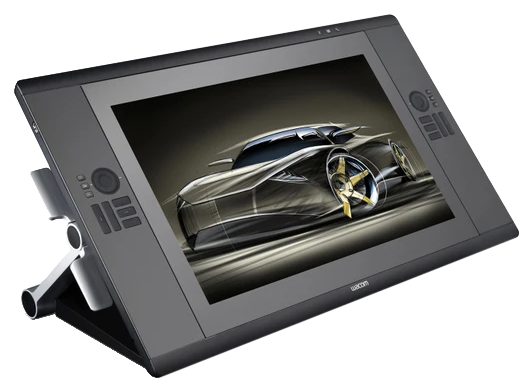 So far I had 7 different Wacom tablets, and while I was very happy with each one, getting the bigger or newer version was always a great improvement (Wacom tablets are great quality, so I was always able to sell my previous tablets at a good price again).
I had following Wacom tablets:
Wacom Intuos 3 (DIN A5)
Wacom Cintiq 12WX
Wacom Cintiq 21HD
Wacom Cintiq 24HDT
Wacom Companion 13″
Wacom Mobile Studio Pro
Wacom Cintiq Pro 27 – since 2023 (current tablet)
I quickly found out that the Cintiq series (pen display) worked best for me. As I am often working with bigger images, the larger tablets always worked a lot better for me and made drawing easier, as you don't have to scroll that much, it's more comfortable to see a bigger area of your image and you have more space for additional onscreen menus, windows or tools for example. So if you can afford it, I would definitely recommend getting a 16″ tablet or larger.
My current tablet is a Wacom Cintiq Pro 27. It also features a touch screen function, which works really well and smooth, compared to the previous Cintiq 24HDT (while I loved the tablet, the touch function never really worked great for me, so I turned it off all the time).
---
XP-PEN – My experiences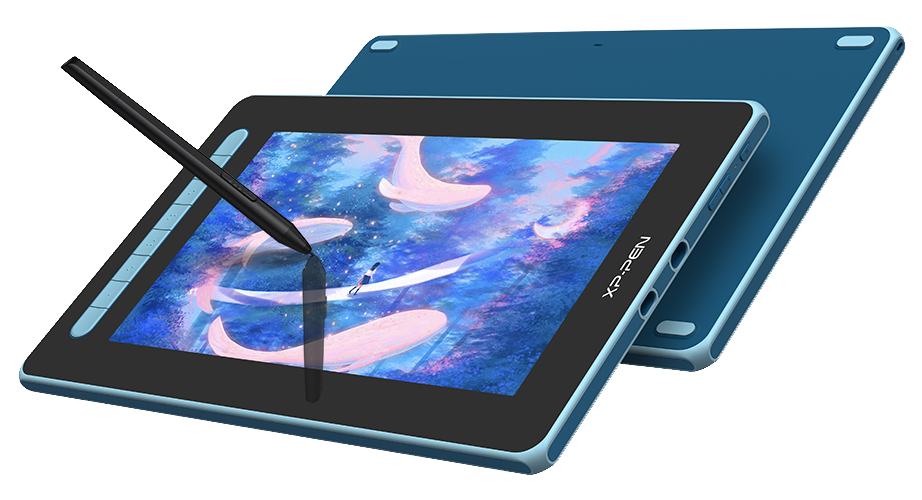 In 2022 I received an XP-PEN Artist 12 pen display for testing. It was very interesting to try a different graphic tablet than Wacom. The Artist 12 is the smallest of their pen displays (buttons and backside are plastic), which is perfect for beginning artists or if you're on a budget. It has everything you need, the 8 customizable hot keys make working efficient and enjoyable. The bigger versions also offer additional features, like an additional stylus wheel, a stand, 4K resolution, a multi touch screen, etc. (but at higher prices). All in all I was really impressed with this pen display, which is already available at about 200 – 260 €. It was a little challenging at first to draw with a small tablet again, as I am used to my 24″ one, but you get used to it, especially if it's your first tablet, I am sure you will have a pleasant experience with it.
I can't say anything about their larger tablets with more features, as I didn't have the chance yet to test them. I also have no long-time experience yet.
Some pro and cons of the tablet in a short overview:
Pro:
Pressure sensitive (8192 levels) and supports 60° of tilt
Surface is fully laminated
Package included extras like 10 pen nibs and a drawing glove
8 customizable buttons / hot keys
Stylus pen works nicely, without lag
Lightweight, good feeling
Battery-free (no charging required)
Con:
No on-screen menu (additional digital buttons) in the software
No stand included (also no built-in one)
No pen holder or protection case included
(those optional items can all be ordered separately in their shop)

I made a review video (it was the first one I ever did), showing a little bit what's included in the package, also including some time lapse drawings:
---
Drawing on the go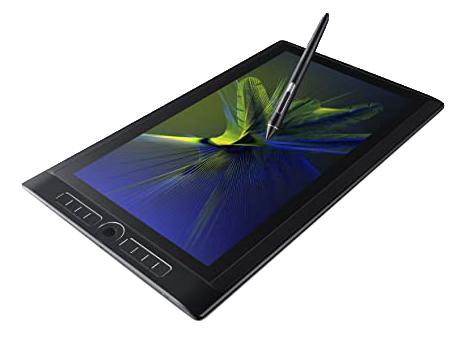 If you want to draw somewhere else than your desk at home, you either need a pen display or pen tablet with a laptop, or you can get one of the pen computers, which have the pen display included in the computer.
My first pen computer was the Wacom Companion 13″ in 2014, Wacom's first tablet with an integrated computer. Later, I replaced it by their newer version – the Wacom Mobile Studio Pro 16″ (also because the 13″ were a little bit too small for my taste).
My art program of choice, Adobe Photoshop, was running fine on it. The customizable hot keys and adjustable on-screen menu (digital menu by Wacom) are very useful and improve your workflow a lot. The quality was as great as I was used to by Wacom (a stand was not included, it had to be bought separately). However the mobile studio never replaced my large Cintiq on my desk.
Advantages of a pen computer are that you only need one device to take with you – including the power supply. From my experience, the battery time was okay, but I couldn't say it's perfect for drawing on the go for hours without power supply (the battery lasts maybe 2-4 hours, depending on the use). Also the tablet has fans for cooling, so there is additional fan noise and the tablet gets warmer (because of the integrated laptop) than a separate pen display or pen tablet. Another difference is the weight, as a pen computer is of course more heavy than just a pen tablet or pen display. If you use a stand, that may not make much difference. If you prefer to hold it in your hand or on your lap, it may. I personally enjoyed the lighter graphic tablets better. Another point is, if you want a new laptop (or faster hardware), it may be easier if you have a separate laptop (or computer) that you can exchange or upgrade, and just keep your separate graphic tablet (like a Cintiq).
Another possibility for drawing on the go is an iPad with the Apple Pencil:
---
iPad Pro with Pencil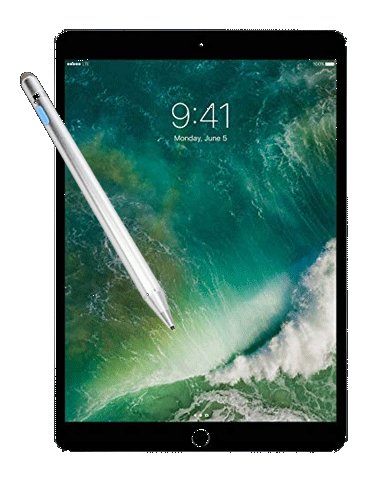 Another nice device for drawing on the go or anywhere is an iPad Pro with the Apple pencil. The separate pencil costs about hundred Euro, but it's worth it. The iPad Pro is a nice powerful and light weight device for drawing, featuring a brilliant retina screen and the battery time lasts for many hours (which is a lot more than the Wacom Mobile Studio Pro for example).
Other than the stylus pens of Wacom and XP-PEN, the Apple pencil has a battery and needs to be charged. However you can simply do that on your iPad and it also charges quite quickly.
I got myself one of those paper-like (matte) screen protectors to put on the glass. It does not only protect your screen, but also offers a much nicer feeling (like paper) when drawing, much more enjoyable than on a shiny glossy surface where you can see every finger print.
There are various great drawing apps. You can look up some programs and apps here.
For example the XP-PEN Artist can also be used connected to your iPad (I haven't tried it, I only read about it). For this setup you need an additional power supply for your pen display.
Here is a little picture I did some years ago on the iPad Pro.
More time lapse videos of my drawings you can find in the video section.