RECOLORED MOOD BADGES AND ADD-ONS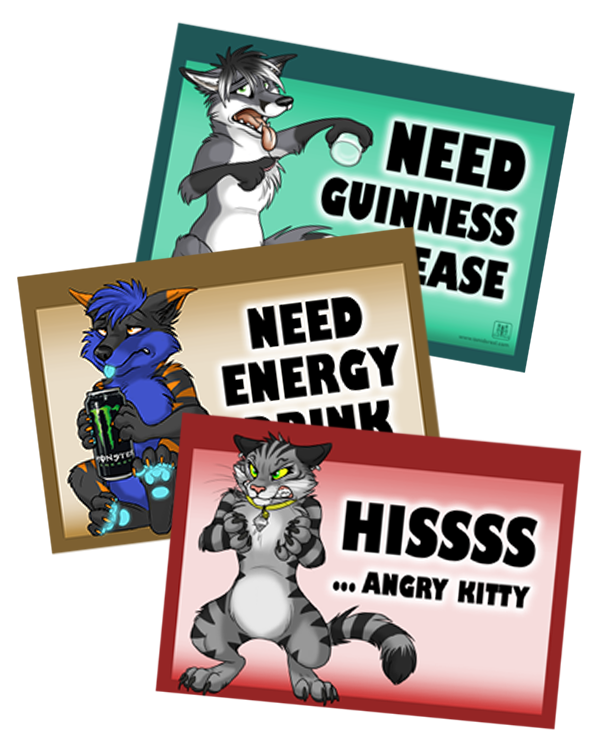 You want a Mood Badge Set with your own character on it or a different text?
If your character is a species that I already have available (or a similar one, for example for a unicorn or pegasus I can use the horse Set), I can make a Recolored Set for you. The good thing, you don't have to wait until I'm open for custom commission slots, as I can usually do Recolored Sets anytime.
Recolored Set:
Set with 5 badges (incl. chain & rings)
You can add Recolored Add-On pages
Or you can swap pages with the Add-Ons
Character will be custom colored
You can have different texts
You can have a different background color
Extras are possible (e.g. wings, horns, piercings/jewelery, collar, glasses, accessories, different drink,…)
Recolored Set (5 moods): starting at $40
Recolored Add-Ons: + $8 (per page)
---
Changes and Extras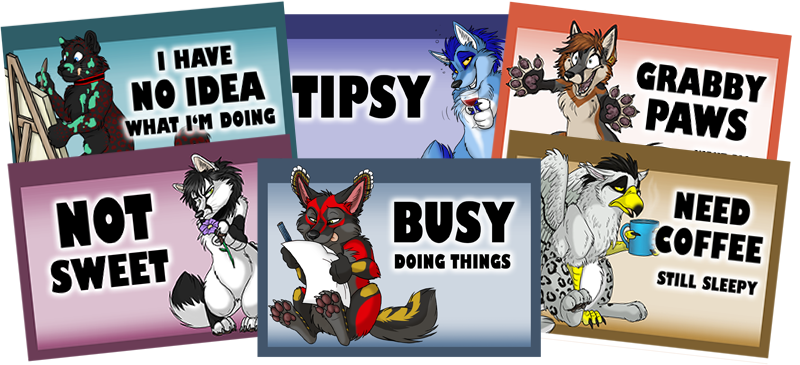 You can change all texts, e.g. "NEED TEA" instead of "NEED COFFEE". Be creative! :) There are actually a lot of possibilities – pick one of the images (e.g. the picture from "SWEET") and pick your own text (e.g. "Buy me some beer?").
If you would rather like one of the ADD-ON moods in your Set instead of one of the standard moods, you can simply swap them (e.g. "SWEET" instead of "NEED COFFEE"), at no extra cost.
Extras on the character design are possible, like scars, necklace, earrings, wings, accessories, etc.
Very complex extras like clothing, complicated hairdos, additional tails, requests that require outlines to be changed, etc. need to be discussed first and may cost a little extra calculated by the work time.
Examples for Recolored Sets can be found in my Mood Badge gallery on FA.
---
How to get a Recolored Set
The easiest way is to fill out this form to ask for a Recolored Set.

I will get back to you asap with the final price quote and payment information. Usually Recolored Sets don't require a commission slot and I can do them inbetween. The time to finish it may vary depening on my current work status. You can of course also order/add additional pages later (e.g. if there are new ADD-ONS).
Please note: only the Standard Set pages and Add-Ons listed on this website are available for a Recolored Set. Custom pages (you may have seen in other people's Sets) commissioned by other people are not available.